LOOKING TO SERVICE YOUR VEHICLE NEAR SOUTH CENTRAL MICHIGAN?
With Stillwell Service, Your Car Will Still Serve You Well For Years
We are proud to have loyal customers from places like Jackson, Spring Arbor, Quincy, and Fremont IN. These customers keep returning to Stillwell Ford in Hillsdale because they've found that they can expect reliable, straightforward service here. As your community Ford dealership, we're happy to offer efficient service for all kinds of maintenance and repair, including: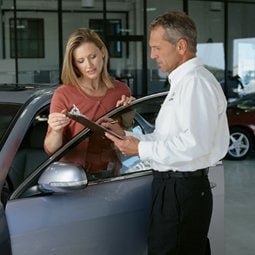 oil changes
tire rotations and seasonal tire changes
spark plug replacement
brake repair
exhaust repair
air filter changes
ignition coil replacement
head gasket repair
and anything else your Ford could need!
Check our service menu for pricing. By staying current with your regularly scheduled maintenance, you'll extend the life of your vehicle and its parts. The cars and trucks that come to us for each and every service right on the dot are generally the ones that look and drive as if they're brand new, even after a hundred thousand miles or more.
Auto Repair Doesn't Have to Be a Hassle
At Stillwell Ford, we're committed to providing top-notch service to our customers as well as their vehicles. Most people don't love the idea of bringing their vehicle in for regular auto maintenance, but it's a necessity of vehicle ownership and we try to make the process as easy and convenient as possible.
We're here until 7:00 pm on Wednesdays because we know you might be on a tight schedule during the regular work week, and 7:30 am is just too early for some folks! We also provide complimentary loaner cars for minimal interruption to your day. (We have a limited number, so please let us know ahead of time if you need one and we'll book one for you!)
For easy scheduling, use our online appointment scheduling tool. Just enter your information, choose the service your car or truck requires, and pick a date! You can do this at your convenience, which is great when it's midnight and you're struck with the sudden realization that you're a thousand miles past your service interval.
Don't forget to ask your advisors about our service specials and our Stillwell Rewards Program and start saving today!
Use the appointment tool or give us a call, but remember to stay on top of your vehicle's maintenance schedule!